This is where Shaun and I spent New Year's Eve. On the couch.
OK...
OK...
Not in sexy, silk, and overly cheesy matching pajamas
But.....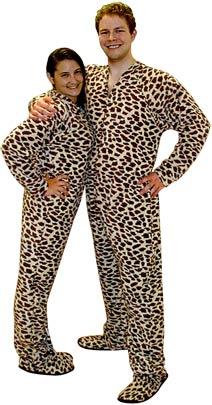 Maybe in head to toe matching leopard print?
NO...
NO...
NO...
We went for the more traditional. I had on my comfy striped flannel pajamas and Shaun had a T-shirt with his flannel pajama bottoms. They did not match. ;)
We watched a movie and ate popcorn.
I turned to Shaun and said, "When did we become so lame?" The last couple years we have been going over to our neighbors party. I just couldn't justify keeping Max up or waking him up to go over to the party at 10:30pm. So......we snuggled up on a comfy couch in our comfy pajamas, with popcorn, and watched a movie. While Max was sound asleep in his bed.
I then decided that being "lame" wasn't so bad. ;)
I told Shaun that when Max gets older. We had to party and make it super fun for him and for us. Until then? We might just continue to be...........lame. ;) HAPPY NEW YEAR!!!!!!!!!!!!!!!! Here's to many more "lame" and "partying" Years together. :) :) :)